[text_divider type="single"]
Stephen Willoughby – Running Coach
[/text_divider]
[column width="1/3″ title="" title_type="single" animation="none" implicit="true"]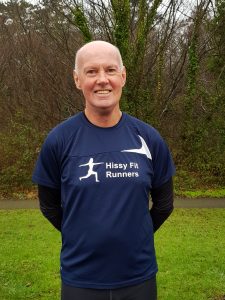 Contact
Email: info@hissyfit.ie
Phone: 086 2043491
   
[/column]
[column width="2/3″ last="true" title="" title_type="single" animation="none" implicit="true"]
"My late father must take the blame for encouraging me to take up running as we used to watch the London Marathon together each year and each year I would always say I would do a marathon. Finally in 1984 I decided I would run the Dublin Marathon. Being a young unknowledgeable runner, but fit from playing rugby and soccer, I found it very easy but made the mistake of not recovering properly as I ran every day after the marathon until I had such a bad experience in a 5-mile race two weeks after, I actually gave up running and turned to Golf.
When my father was diagnosed with cancer in 2002 I knew I needed to try and get back running again to try and help with the stress I was going through looking after him and when he passed away I decided to run the London Marathon in his memory.
3 Dublin Marathons, 2 New York, Chicago, Berlin and Boston later and hopefully Dublin in October 2015, I am still going but my view of running has changed now from pushing myself to try and achieve times to now helping others try and achieve their goals.
Since 2014 I have paced Rock & Roll, Clontarf, Wexford and Connemara Half Marathons and will be pacing Rock & Roll Half Marathon again in August.
Due to redundancy in April 2015 I decided I would like to try a different direction from working in the financial industry and completed a Diploma in Sports Psychology Course which I passed with merit in May and have since started working as a running coach with Corporate Running Groups which I am finding very rewarding to see people progress from struggling to run for 1 minute in Week 1 to completing a 5K in week 8, progressing then to 10K distance and also enjoying running which is what exercise should be all about.
I completed Athletics Ireland Level 1 Course in Athletics Coaching in 2009 and plan to progress to Level 2 in 2016."
[/column]